We spent 3 days in Marrakech in October of 2019 and the timing was pretty prefect: minimal crowds, incredible weather and brilliant food. Despite having planned to go on mountain excursions, quad bike adventures and camel rides in the dessert, we landed and decided that we wanted a relaxed break so instead, stuck to daily walks to Koutoubia, evenings in Jami El Fenaa and a brilliant Hammam experience. If you're wanting a guide on how to spend 3 days in Marrakech just soaking in the atmosphere, eating all the food and being chill, then this is the one for you.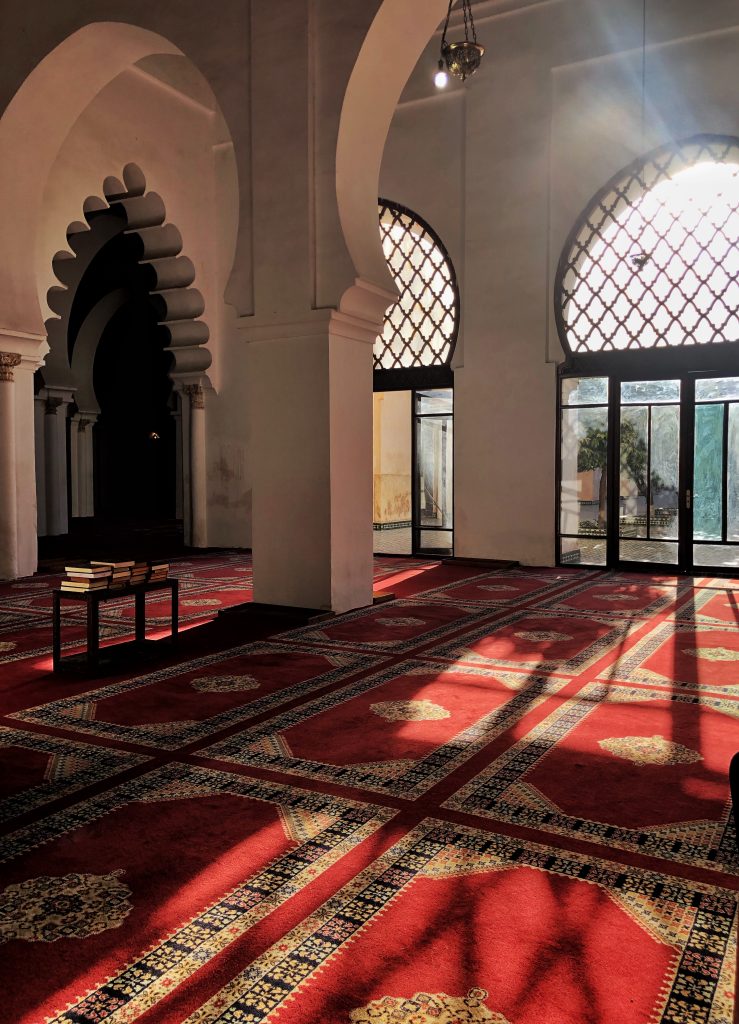 What to Do
Visit the Hammam: a Morocco visit is not complete without a traditional Hammam experience. We booked a visit at the first Hammam we came across, close to our riad and it was absolutely brilliant. Riad Bahia Salam was clean, quiet and relaxed. The staff were efficient and we were able to enjoy a brilliant, private experience. The hammam has ladies-only facilities, making it perfect for Muslim ladies. Later that evening, we dined at their rooftop restaurant and enjoyed the delicious flavours of lamb shanks, tagine and mint tea made by the loveliest Moroccan aunties.
Pray at Koutoubia, the stunning Twelfth Century mosque that was the biggest mosque in Marrakech at the time of its construction and even today, the minaret marks the highest point in Marrakech.
Souvenir shopping at Jami El Fenaa: allow yourself to get lost in the maze that is Jame El Fenaa and haggle your way into purchasing all the souvenirs. AHFJ Top tip: if you see something you like, grab it immediately as you most definitely won't be able to find that same seller when you 'come back later.'
Taste all the street food and fresh fruit from vendors that line up along the streets and in the markets.
Visit Menara Mall for an evening of aimless wandering and good food. They have a huge top floor restaurant complex with stunning views over the city as well as a 'Kidzo', the 'largest playground in Marrakech' that takes over the 2nd and 3rd floor of the building.
Where to Eat
You won't be short of finding Halal food in Marrakech and one of our favourite tricks abroad is finding the cafes and restaurants full of locals and away from the tourists. That is where you know you will get good, authentic food at local's prices. We were also wary of catching a bug whilst out in Marrakech and thankfully, none of us did which was a testament to the quality and freshness of the food we did eat. Alongside snacking on all the fresh fruit from the street sellers, here we've listed some of the best places we tried.
Corner Cafe: the first place we found the evening we landed in Marrakech and one of our favourite meals. We enjoyed tagine, shawarma sandwiches, a delicious bruschetta starter and some brilliant mocktails. The setting is really quirky and ideal for a relaxed meal.
Time Food: another unassuming place, full of locals with excellent prices and hearty dishes.
Fine De Marrakech: a local hotspot selling fresh msamen at the door and with rows full of fresh patisserie at local prices. Moroccans know how to do patisserie and this place didn't disappoint.
Riad Bahia Salam: for one of the 'nicer' meals in Marrakech, the rooftop at Riad Bahia Salam is certainly ideal. With views over the city, the gentle sway of the rooftop pool and spacious tables providing a private setting, the location as well as the food makes this worth the visit. The hammam at Riad Bahia Salam is also worth a visit, as detailed above.
La Table Du Marche, Menara Mall: Menara mall is home to a large amount of eateries from which we particularly enjoyed the dessert parlour at Le Table Du Marche on the ground floor, where they did some pretty good mint tea, macarons and Nutella crepes. If you're wanting a more 'refined' aesthetic, then this is the place to try.
KFC: a visit to chain restaurants when in Muslim countries is mandatory and the fact that KFC is located in close proximity to Koutoubia mosque made it the perfect place for an afternoon meal.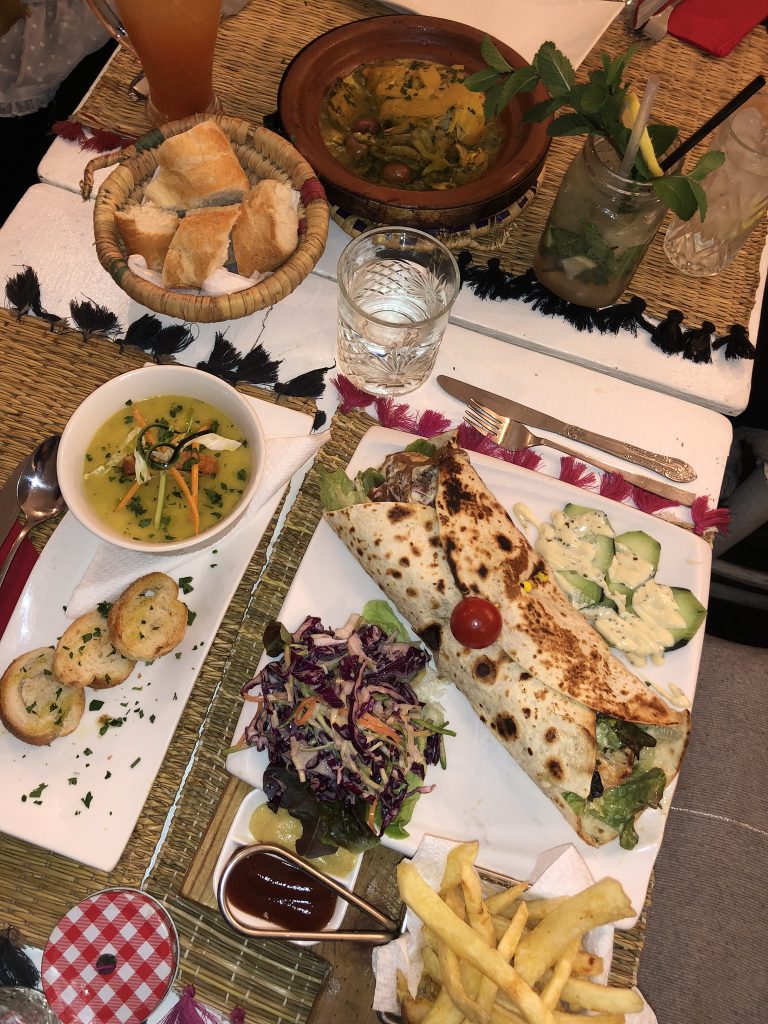 For a guide on where to stay in Marrakech, check out our review on a 5* Trip Advisor-rated riad here.
Please follow and like us: