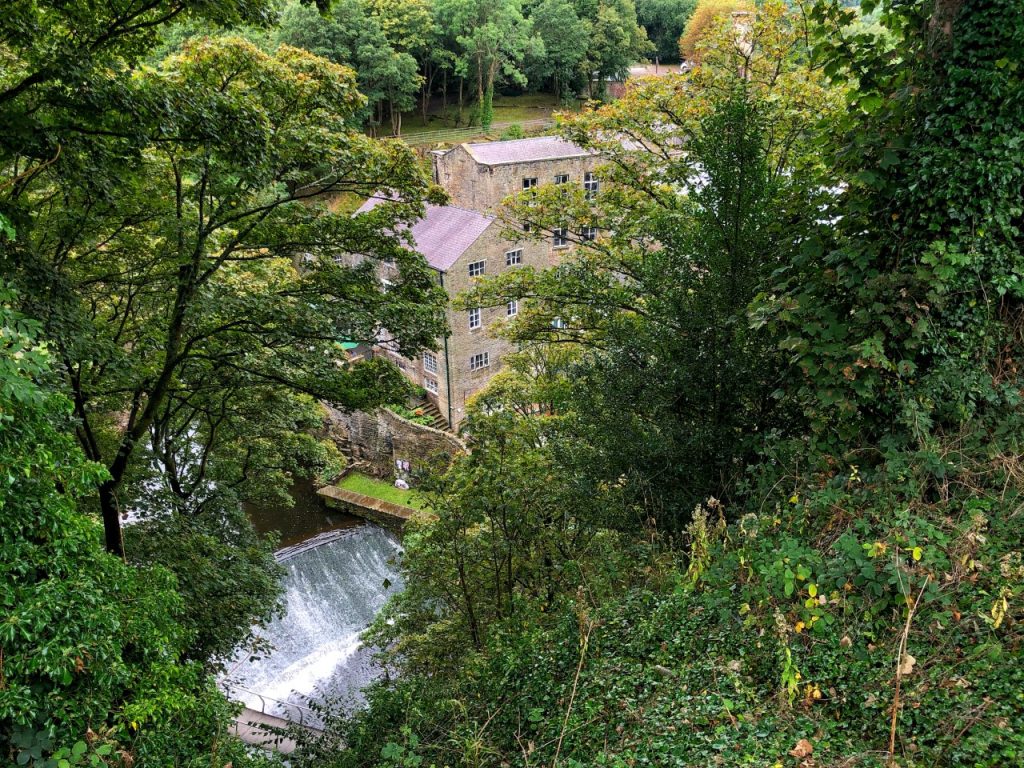 The Peak District is 555 miles of National Park visited by thousands every year to enjoy its natural beauty. It has multiple locations that are worth visiting and whilst this list is certainly not exhaustive, I've broken it down to just a handful that are perfect for all ages and abilities. Best of all, each of these locations is accessible via public transport from cities like Manchester and Sheffield, as outlined below.
New Mills is a quintessential town, full of independent shops, cafes and of course, beautiful scenery. Starting at the top of Union Rd, you'll be greeted by cobbled steps leading onto the Millennium Walkway, an impressive 175-yard aerial walkway that goes along the cliffside above River Goyt. The route along River Goyt is highlighted by impressive viaducts, historic mill buildings and includes the Toors Hydro. Walks along the river are calm and appropriate for those of all ages and abilities.
There are two train stations in New Mills: New Mills Newton and New Mills Central. Direct trains from Sheffield and Manchester on the Buxton route stop at New Mills Central and from there, it is a short 5-minute walk to the Millennium Walkway.
Hayfield is a small, peaceful village located in The High Peak. Walks around the village are picturesque and with flowing waterfalls, country houses and buildings that date back to the 1600s, it is a lovely area to visit whatever the weather. If you're feeling adventurous, there is also a 9-mile 'Kinder Scout Walk' from Hayfield to Kinder Downfall – the highest waterfall in the country – and Mermaid's Pool.
Hayfield to Kinder Downfall: Starting point is at Bowden Bridge car park, 165 Kinder Road, Hayfield, High Peak, SK22 2LH.
To get to the village of Hayfield via train, there are a few routes that could work, depending on your starting location and preferred method of transport. One of the quickest routes is as follows: take the Buxton trains from Manchester Piccadilly to New Mills Newton. Exit and from there, take a 10 minute bus to Hayfield. From Sheffield, take the Manchester Piccadilly train to New Mills Central, exit and take a bus 10 minute bus to Hayfield.
Now this is a location that has gained immense fame on social media and understandably so. Winnat's Pass is a National Trust area in Castleton, Hope Valley. The windy roads through the hills and limestone gorge give name to this route and driving through as a passenger is a stunning experience. It's not uncommon to make friends with sheep as you climb up the peak and the further you climb, the better the views get. Whilst we were there, we saw a large group made up of individuals of all ages: from infants to the elderly, it looked like a fantastic day out for them and highlighted the fact that it is accessible to all.
Parking at Speedwell Cavern on Arthurs Way is available at the foot of the hike, making it one of the best and easiest places to park. Castleton Park is also available in the centre of the town, just a 15-minute walk from Speedwell Cavern.
Direct trains from Sheffield and Manchester are available to Edale and Hope Valley train stations, from which there is a 7 and 10 minute drive to Speedwell Cavern, respectively.
For more information and areas to visit in the Peak District, take a look at the following helpful websites:
Please follow and like us: