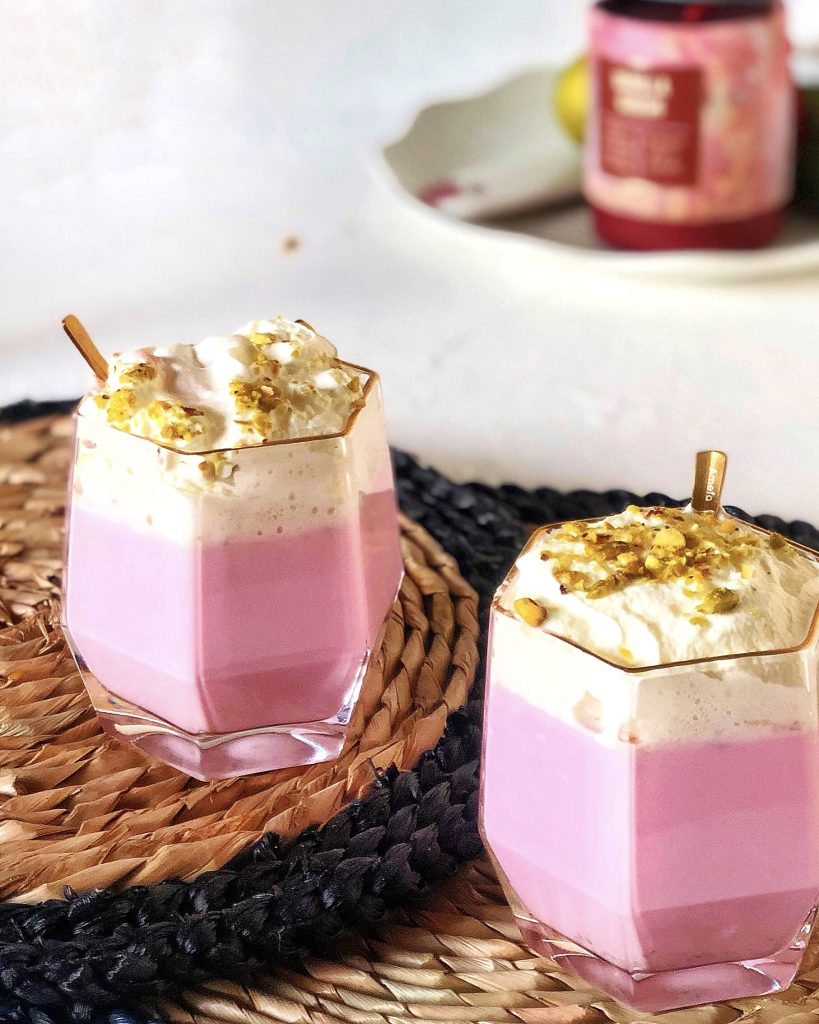 Is it even Ramadhan without Rose Falooda? The trick to getting that perfect taste and consistency is in a step that many people tend to skip, but in our house, it is vital. That is boiling the milk before mixing the syrup in. It sounds small, but it is completely necessary. Once you've had falooda with boiled milk, you won't be able to have it without
Method:
For the Milk:
Boil 1 pint full fat milk, with 1tbsp sugar and 2tsp ground almonds and pistachios on low heat for approx. 15 minutes. Once boiled, pour into a jug and leave to cool.
For the Rose Syrup: (these steps are optional)
Mix 1kg of granulated sugar in 4 cups water, with 1tsp red food colour. Bring to a boil on low heat until it becomes a sticky syrup. (Approx.30 minutes). Leave to cool
Once cooled, mix into 1/2 a bottle of rose syrup. Store in a cool and dry place, to use as and when needed.
For the Agar Agar: (optional)
In a pot, mix 2 cups cold water with 2tsp agar agar powder and 1/2tsp red food colour.⠀
Place on medium heat and bring to a boil. Once boiled, remove from heat and pour into a deep dish. Set aside to cool and set.⠀
When cool, cover and leave in the fridge. It will stay in the fridge for at least 5 days.
Assembling your drink⠀
Add rose syrup (amount to taste) into your jug of cool milk.⠀
Grate in a small piece of the agar agar (if using), top with ice cream and serve.⠀
Top Tips:
Prepare the rose syrup pre-Ramadan
One pint of milk is boiled and cooled on a daily basis for that day's falooda.
One batch of Agar Agar will be enough for a few days worth of falooda
To make the whole process a little less overwhelming, don't change the Rose syrup.
Please follow and like us: