Halal food is becoming more and more accessible in European countries and with its large Muslim population, Lisbon is no exception. Within the city centre itself, Halal and vegetarian options are a plenty, and you'll never be hard pressed to find somewhere to eat. This list is by no means exhaustive, but it is a selection of the places we tried first hand. To read about the best places in Lisbon for traditional Pasteis de Nata, keep your eyes peeled for a separate post coming soon.
Brunch/Breakfast
One of the funkiest places in Lisbon for breakfast and can anything get more traditional than cereal? As a family who prefer cereal over all other breakfast options, this was the first place we stopped at for breakfast. The owners have really taken the concept to heart: walls are lined with shelves full of cereals from all over the world and there's even a bunk bed for the whole 'breakfast in bed' vibe. It's fun and cool, but still guaranteed to keep everyone in the party satisfied: even if you're not feeling adventurous, there's always Rice Krispies and Crunchy Nut to opt for. If cereals are not your thing, then the milkshake concoctions available should do the trick.
AHFJ Top Tip: get there early as queues build up quickly and serving times get longer.
When our first option Heim Café didn't have a table available for another hour and we had 5 hungry people to feed, we took a walk along the street and stumbled across Food Mercearia Biologica, an organic grocery store and coffee shop. Their dishes are made instore with local ingredients including bakes like lemon and poppy seed loaves and vegetarian quiches. The atmosphere in here is as calm as Pop Cereal Café is funky. Their menu consists of freshly pressed juices, fluffy American pancakes and pescatarian dishes such as eggs royale. The salmon tasted particularly fresh and we also enjoyed the 'spicy eggs' dish that was served with really nice spicy ratatouille.
Founded in 1882, Confeitaria is the oldest patisserie in Lisbon and they have clung onto the traditions with their wooden flooring, wooden chairs, the white net in the windows draping the vintage cake stands and the hustle and bustle of local customers. Your experience here is truly authentic, especially with the local prices of the food in the cafe. Their pastel de Nata are a must to try, as well as the croissant which was so flaky and filled with creamy, dark chocolate.
AHFJ top tip for tourists: If you choose to sit outside, you will have to stand in a queue, place your order and take it outside with you: I.e self service. If you want to sit in: find a seat and a server will come to you with a menu to take your order: I.e table service.
Lunch/Dinner
El Canto is located in the area of Odivelas, on the outskirts of the city. However, it is definitely worth a trip there as the restaurant is a fully halal steak and burger house that serves traditional flavours such as Portuguese Gizzards (if you want to be adventurous.) Some of our favourites were the Camarao prawns: fresh, king prawns served in a tangy, lemon sauce; the Ribatejana burger: chicken burger doused in Portuguese sauce; the Portugusa burger: a delicious beef burger in a Portuguese sauce, topped with a fried egg and rasher, and the Picanha steak: a succulent fillet kept simple with a salt and pepper seasoning.
Another traditional restaurant, this one serving halal peri peri chicken, barbecued as you wait. Zubir Churrsqueira was perhaps the the number 1 recommended halal food spot in Lisbon and it is a no-fuss-no-frills kind of place with an efficient service. As someone commented: it's the 'real' Nando's.
We tried the spicy, bbq chicken with crispy skin served with hot, fresh naan, and a dish of tender steak paired with salty chips and simple rice. If in Lisbon, you have to try this place. The food is wholesome, filling and so tasty.

AHFJ top tip: Zubir have both takeaway options and eat-in. If you want to eat in, you go to the takeaway corner and skip the queue straight to the front: give them your name and that it's an eat-in option and they'll come to seat you in the building opposite. They then take your order and your food will be served to you really quickly.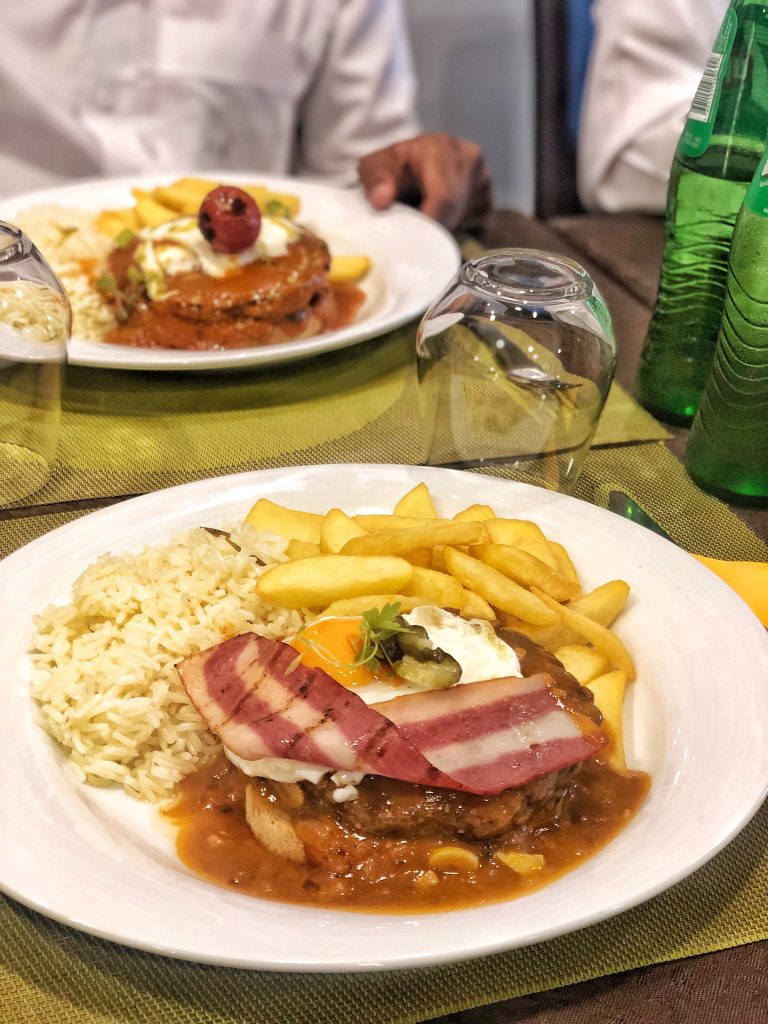 Lisbon Central Mosque, Restaurant
This one is definitely a hidden gem in Lisbon. The restaurant located in the basement of Lisbon Central Mosque has an extensive menu and serves some of the most flavourful Asian dishes we've had in a while. It also helps that compared to the rest of the city, the prices are very wallet-friendly but there is no compromise on quality and portion sizes. Some of our favourites were the bbq chicken, prawn curry and the steak.
When craving Indian food in Lisbon, Zaafran is an ideal place. Despite its location in the centre of the city, the food is still very authentic and spices haven't been diluted. The portion sizes are hearty and the setting is very nice too, perfect for a dressy evening meal in Lisbon. Some of our favourites were the Naan stuffed with cheese and topped with garlic-butter, Ghosh Thaali of simple white rice, accompanied by a selection of mains. The meat dish had to be the best: the meat was succulent and rich in flavour. The dhaal accompaniment also tasted exactly like the dhaal made at home.⠀The Murghi Tikka masala was a beautifully flavoured chicken masala dish served with buttery naan and the mango lassi had a good balance of sweet and tang.
Desserts and Sweet Treats
Laduree is perfectly suited to its surroundings on Avenida da Liberdade. The tea room is ultimate lush, feminine dream and Instagram heaven. At the café, you can dine in and opt for both sweet and savoury options, brunch, lunch dinner and even afternoon tea. With plenty of vegetarian options, it's an ideal spot for halal diners
Some claim Santini is the best gelato in Lisbon and luckily, the majority of options being vegetarian and alcohol-free means we got to have a nice taste of their flavours. Their products are certainly worth the hype. We tried the lemon gelato: an almost sorbet-like consistency, alongside a scoop of salted caramel. The salted caramel had crunchy pieces in it that added brilliant texture.
This one you won't read about much as it's a little, hidden gem. Their gelato is made with fresh ingredients and alongside fun flavours like bubble-gum, they even do more interesting ones, like the passion-fruit-and-ginger combination. As it's located around the corner from Zaafran (mentioned above) it makes an ideal spot for an after-dinner treat. It's a hidden gem that deserves a spot on your Lisbon food list.
Please follow and like us: