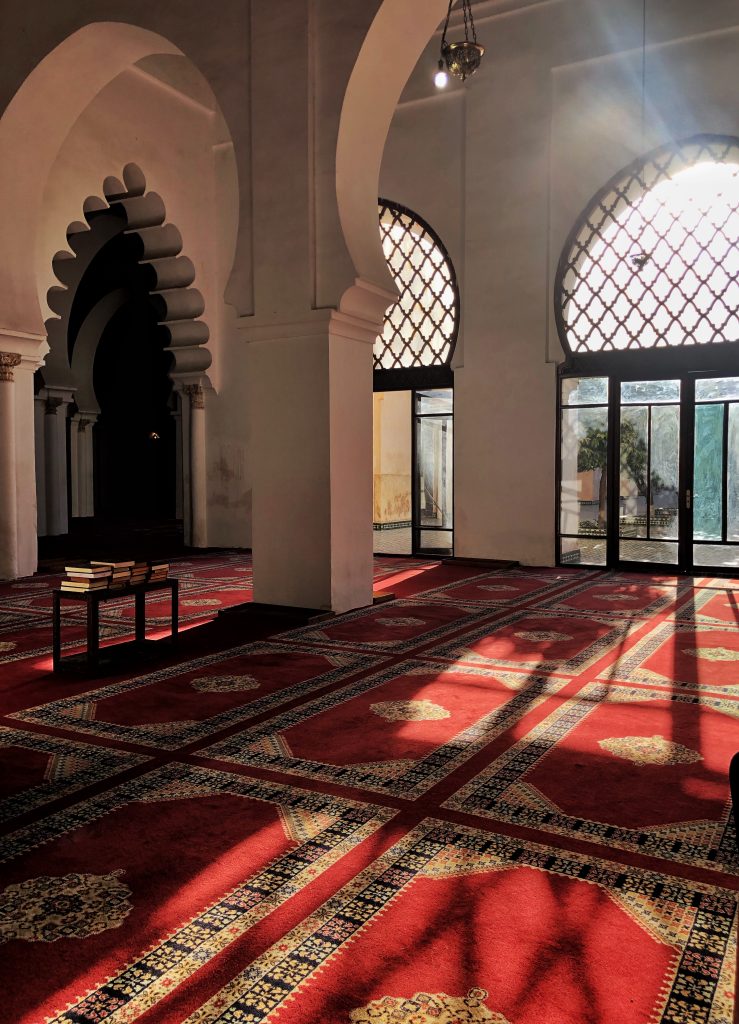 Marrakech is a beautiful city bursting with culture. Despite it being a tourist destination and visited by millions every year, it still retains an authenticity and vibe that is hard to replicate. On our first visit to Marrakech, we were there for just 3 nights and wanted somewhere central but still safe and quiet. Thankfully, this is where we came across Riad Maison Arabo Andalus: a stunning riad that offered 'a priceless experience of traditional Moroccan hospitality.' What sealed the deal was the 5* Trip Advisor rating and the countless positive reviews.
Getting There and Location
Direct flights from UK airports into Marrakech are plenty and easy to book. Riad Maison Arabo Andalus offers airport transfers which we booked for ease of mind and to save the hassle of hunting down a taxi at the busy airport. Despite our plane getting delayed, the hotel team were easy to contact via email and reassured us that someone would be waiting for us whenever we land. This efficiency was certainly appreciated and Muhammad was waiting for us at arrivals when we landed, placard in hand.
The riad itself is perfectly located within the Medina in Marrakech, just a 7-minute walk from Jame-El-Fenaa but tucked into a small street, away from all the hustle and bustle. Within the first 24 hours we landed, we were confidently making our way from the riad into the square without any problems.
Rooms and Amenities
Along with the airport transfers, other amenities include daily housekeeping, laundry service, baggage storage and free Wi-Fi. The staff at the Riad are extremely welcoming and friendly, always passing by with a smile and ready to offer their help.
The rooms themselves are designed and decorated tastefully. With the rich gold tones, mahogany furniture, terracotta elements and then hints of green spread out, the vibe is luxury but still very traditional. One of the suites on the ground floor is specially adapted for people with limited mobility and all the rooms have stunning decorated private bathrooms with showers and reversible air-conditioning. When we checked into Riad Maison Arabo Andalus, the lovely staff welcomed us with a pot of mint tea in the hotel lobby and again, when we entered our room, we were pleasantly surprised to find another pot waiting for us. Their mint tea is delicious: hot, fresh and sweet and the perfect Marrakech welcome.
Room prices during our visit included a continental breakfast of fresh, local fruit, pastries, mint tea and fresh juices whilst hot options were available on order. As of January 2022 however, prices are inclusive of a cooked breakfast. Our relaxed mornings would be spent dining on the open roof terrace, under the shade of the straw canopies, listening to the storks chattering away in their nests. The rooftop overlooks the colourful buildings of the Medina set against the vast, cloudless sky and spending the morning there is a pretty good way to start the day in Marrakech.
Prices
Depending on the season, prices at the Riad can range from £75 for a Superior Double Room, to £145 for a Family Suite. Superior Double Rooms and the more luxurious 'Suite with Terrace' are ideal for couples, whilst 3-person, 4-person and family suites are available for larger groups.
It is important to note that a tax of EUR 2.5 per person, per night is imposed by the city and to be paid when checking out.
Airport shuttle service is EUR 36 per vehicle for a roundtrip, which, whilst more expensive than the local taxis, is definitely worth it and it is hassle-free and efficient.
Activities
Marrakech isn't short of activities and some of our favourites include a traditional hammam experience, praying at the Koutoubia mosque and for the thrill-seekers, a trip to the Atlas mountains is worth experiencing too. Take a look at our guide on How to Spend 3 Relaxed Days in Marrakech
You Might Also Be Interested In…
Please follow and like us: