Our visits to Umrah have always been planned and booked independently, apart from the Visas which traditionally had to be arranged via a travel agent. Now, with many of the barriers removed to book visas, tickets, and hotels it has never been easier to take control of your trip whilst saving yourself thousands of pounds. Here, we've put together a guide on how to get the best out of your Umrah experience.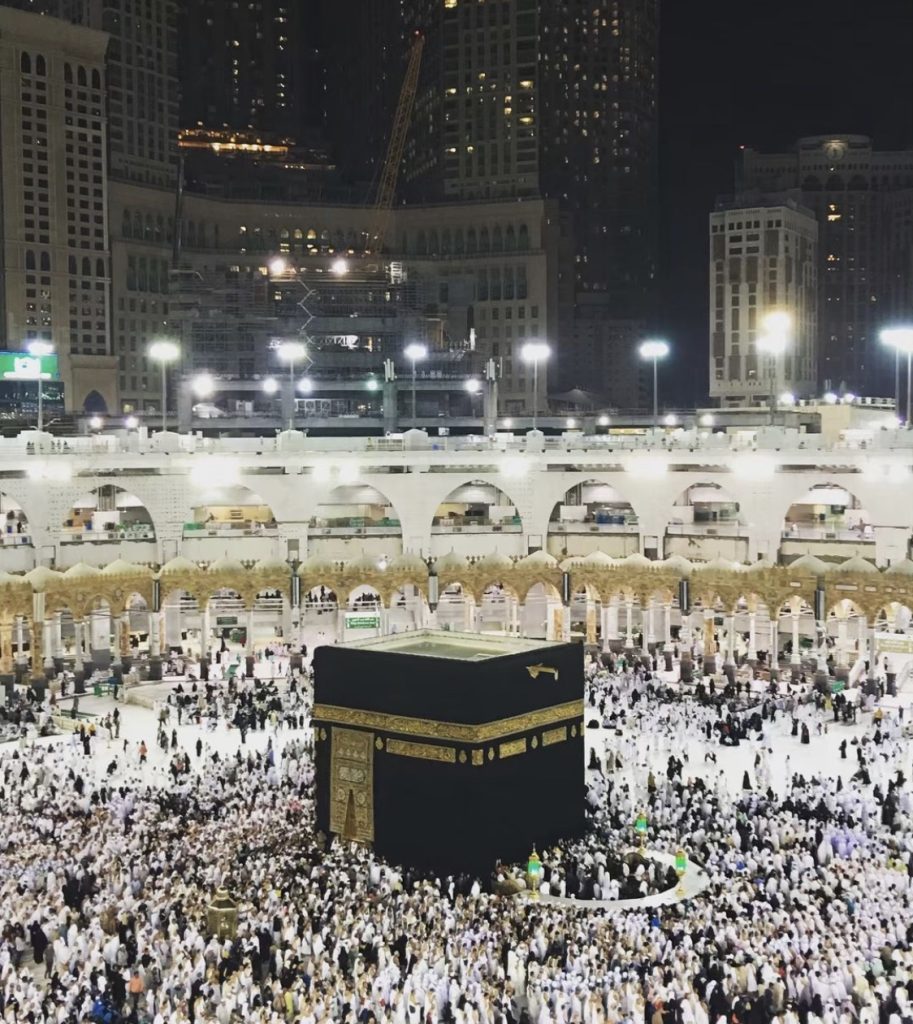 Getting There and Visas
Both direct flights and those with stopovers are available from major airports in the UK such as Manchester, Birmingham, Liverpool and Heathrow: Saudia will take you there directly, whilst Gulf Air, Turkish Airlines and Lufthansa are popular for stopover flights. To find the best prices, we recommend using Skyscanner and Google Flights.
The main airport in KSA is the King Abdul Aziz International Airport in Jeddah and this is where direct flights from the UK land. From here, it is approximately a 1 hour 30-minute taxi ride into Makkah. To get from the airport to your hotel, official taxis are lined up outside the airport exit at all hours of the day and it is not difficult to catch one.
An alternative to Jeddah is flying into the Prince Mohammed Bin Abdulaziz International Airport in Medina but is important to note that currently, there are no direct flights from the UK to Medina: all have a stopover elsewhere even if it is just in Riyadh.
Guests are also required to have a Saudi eVisa to enter the country and this can be booked directly via the VisitSaudi site. This system was introduced in 2019 and has been created in a way that makes it easy for pilgrims to make the purchase arrangements themselves, thus removing the middleman and bringing down the costs significantly.
The eVisa is a one-year, multiple entry visa, allowing tourists to spend up to 90 days in the country. It covers tourism-related activities and Umrah (excluding Hajj season) and excludes other activities such as studying. The visa costs 480 SAR- approximately 100GBP depending on exchange rate.
Where To Stay and How to Book Hotels
As the Haram extension has resulted in a lot of walking within the compound itself, it is ideal to stay in hotels that are just a stone's throw away and these are those on the side of the Kind Fahad and King Abdul Aziz Doors.
We stayed in Hyatt Regency in December 2018 and the service, amenities and location was perfect especially as we had our Grandparents with us. It required very limited walking to get to the King Fahad gate and then to the Mataaf. The Conrad Hotel and Hilton Suites are also highly recommended by acquaintances and as they are adjacent to Hyatt Regency, walking times are similar.
The Jabal Omar Complex also has its own shopping mall 'Souk Al Khalil' with a wide range of food outlets including Mado, Al Tazaj, Al Baik, Hardee's, Ben's Cookies and Starbucks making it an ideal location for sourcing food too.
Another popular location is the Abraj-Al-Bait Towers (Clock Towers) which houses multiple hotel chains including Fairmont and Raffles. These hotels provide luxury stays and spectacular views over the city, but one thing to keep in mind is that the sheer size of the towers means that getting from the ground floor up to the hotels can take a long time, especially during peak times as it requires walking through the shopping centre and catching multiple lifts to take you to the top. This can then add 20-30 minutes onto your walking time.
When members of the AHFJ team went for Hajj in 2019, they stayed in Swissotel which is the only hotel in the endowment to have its own private entrance: this helps guests avoid the walk through the shopping centre and instead, takes them directly onto the streets so if you are keen to stay in the towers, this would be an ideal hotel to have on your list.
Further along Ibrahim Al Khalil Road you will find cheaper hotels, so if you don't mind a walk and would be okay with simpler/limited amenities, you might want to take a look here.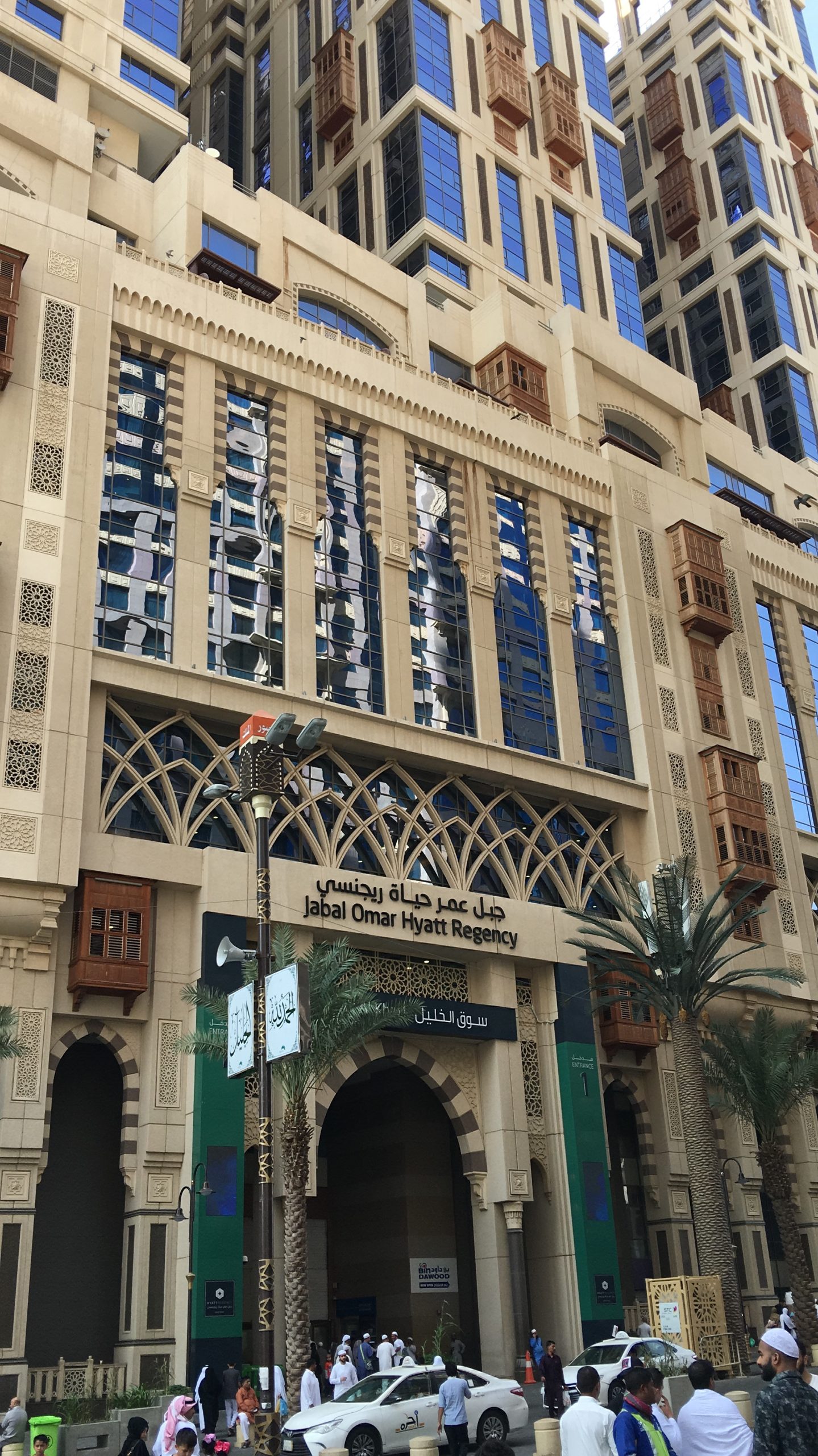 To book your hotels and get the best prices, we recommend either booking directly on the hotel's website or via Booking.com and Hotels.com. The advantage of comparison sites is that they list most hotels in the city, have clear map views and specific filters which can help you narrow down your choices to suit your own needs. On these sites, bookings can be made in advance with the option of free cancellation too, which is extremely helpful in the current climate. They also have great reward systems which can help with future hotel bookings but depending on the hotel you choose, you may also benefit from their own rewards scheme if you choose to book directly. During our visit to Makkah in December 2018, we paid approximately £50 per person, per night to stay in Hyatt Regency via Hotels.com.
What To Do/Ziyaarah
One of the key parts of a pilgrim's visit to Makkah is visiting the locations that have a significant place in Islamic history, known as 'Ziyaarah.' These are some of the main places that you will want to visit (the list is not exhaustive however):
Masjid Al Haram, The Kaabah and Safaa Marwa
Jannatul Mualla / Masjid Jinn: Jannatul Mualla is the place where many of Prophet Muhammad's (PBUH) ancestors are buried, including his grandfather Abdul Mutalib, his mother Hazrat Aminah (RA), and his beloved first wife (Hazrat Khadija (RA).
Mina
Muzdalifah
Arafaat/Jabal Rahma
Masjid Al Hudaybiyah: Masjid al-Hudaybiah is in the location where a peace treaty was made between the Prophet (ﷺ) and the Quraysh in 6 AH, which became known as the 'Treaty of Hudaybiah'.
Masjid Ayesha: Masjid Aisha also known as Masjid at-Tan'eem, marks the place where Ummul-Mu'mineen Aisha (رضي الله عنها) went to enter into Ihram. She was instructed to do so by the Prophet (ﷺ) during the Farewell Hajj.
Cave of Hira: Known as the "Hill of Illumination" or "Mountain of Light", Jabal Al-Nour Mountain is famous for the Cave of Hira. This was the place where Prophet Muhammad was blessed with the first of his many revelations.
Cave of Thaur: This cave on Jabal Thaur is where the Holy Prophet and his companion Abu Bakr al-Siddiq found shelter when fleeing from Quraish search parties.
To book a Ziyarah, you have a few options and one of them is to simply hail down a taxi in the streets of Makkah and arrange a day of visiting with your taxi driver. As the destinations are extremely popular, taxi drivers are well-equipped – and almost expect – to take visitors around so it will be quite rare to find a taxi driver who will be unable to accommodate your request.
You can also pre-book a Ziyaarah experience with a recommended guide: when we visited in 2018, we used the list below compiled by Orient Travel to book a guide- specifically, Qari Abdul Haq who was also an Urdu speaker. You can also check out the full list on our Instagram highlights.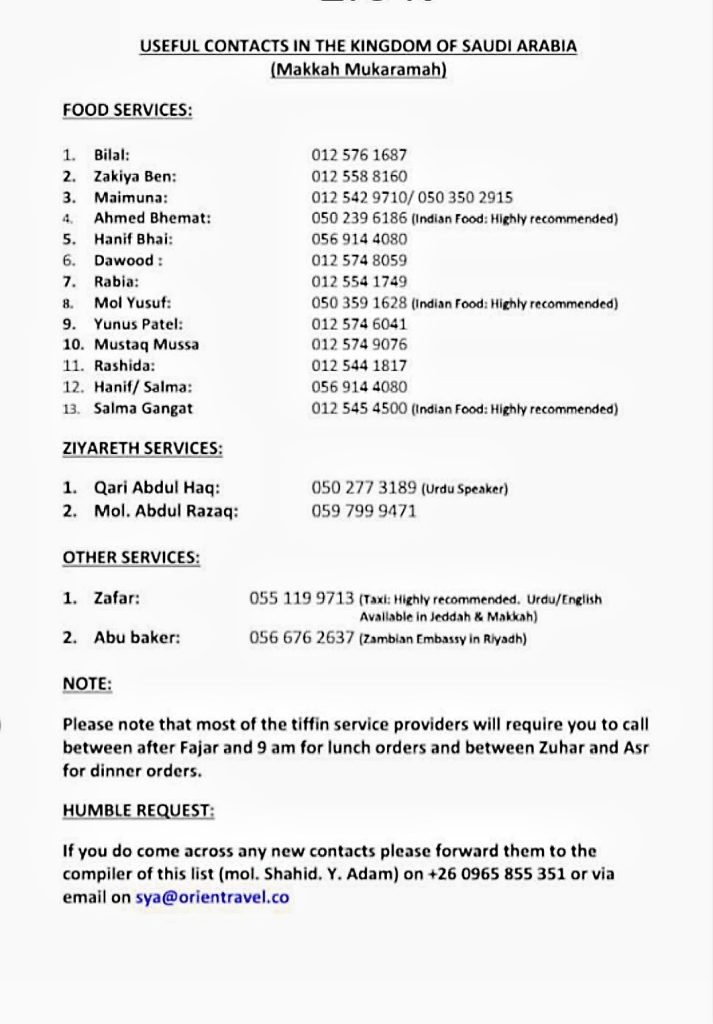 One of the places you will need to visit whilst in Makkah to wear your Ihraam for Umrah is Masjid Aishah. Again, taxis are available to take you there and one of the best places to catch a taxi headed there is on Umm Al Quraa Road, located between the Grand Mosque and Hilton Suites. Here, drivers are gathered and shouts of 'Aishah, Aishah' coming from around are hard to miss.
Additional Information/ COVID-19
It is mandatory for all women who are under 45 years of age to travel for Umrah accompanied by a Mahram. The minimum age requirement for Mahram is 17 years.
Mandatory requirement to have had the Meninigits ACWY Jab at least 10 days before arriving in KSA.
At the time of writing, COVID-19 vaccines are not a requirement to enter the country. However, guests still require the Tawakkalna app for entry into closed and busy areas such as restaurants, malls, and all other attractions and Eatmarna app to book slots for Salaah and Umrah respectively.
The Monzo card provides the best exchange rates – and is our personal favourite – whilst credit cards like AMEX are also helpful. Alternatively, currency exchanges are dotted across the city and it's not difficult to exchange cash.
When catching/booking taxis, be prepared to barter as taxi drivers generally start with higher quotes.
When planning this guide at the back end of 2021, one of the first places I came across the term 'DIY Umrah' was on Muslim Travel Girl's blog, who has created an extremely efficient guide on booking an independent Umrah.
Recently, the travel couple behind Halal Travel Blog also released a comprehensive document titled How to Book Umrah Without a Travel Agent, going into detail for travel to both Makkah and Medina. As they are currently based in Saudi, their guide is extremely up to date with prices etc. Keep an eye out on their Instagram page for their latest news and experiences.
Makkah Food Guide and Medina Travel Guide coming soon…
Information correct at time of writing: April 2022
Please follow and like us: